"The dark night of the soul comes just before revelation."
— Joseph Campbell
Passage
Interactive Narrative
Story of Sound and Light
2020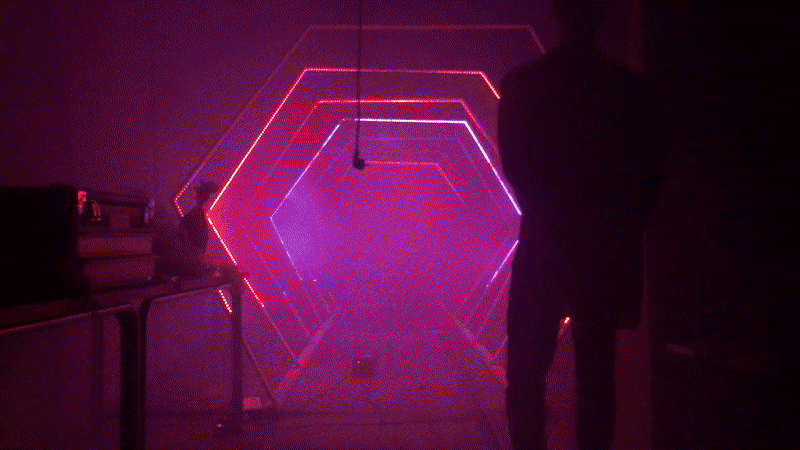 Passage is a culmination of past and present experience. It draws on the after effects of a depression, and is developed using newly acquired techniques of light and sound. Depression here is symbolized as though passing through a long and seemingly endless tunnel. The visual and auditory narrative portrays a message about depression which has become hard to communicate.
It's important to mention that in our society talking about depression is hard for a variety of reasons: words can not fully express the scope of the actual experience and the topic has become stigmatized, but most of all it is difficult to relate for those who have not experienced something similar.
With this sonic and luminous installation I invite people into a passage from birth to adulthood, experiencing the stages, from naïve to knowing, from ignorance to wisdom and from devastation to transcendance.
Passing through this journey people may undergo the universal experience of cognitive dissonance when our long held beliefs turn out untrue, when old world views become shattered and when we must let part of ourselves go, resulting in an allegorical and psychological death.
This work is a development of an earlier work named
Aura
.
The Corona pandemic halted the actual installation of the project,
resulting in exclusively having documentation of a pre-visualisation
and soundscape combined below with several examples of
animation tests done in the months of February and March.
Hardware
Wood, Steel Brackets, Power Supply, ESP32, IR Sensors, WS2812 LED Strips, ArtNet Pixel Controller

The frame of the tunnel consists of 90% recycled wood.

Software
TouchDesigner, Ableton Live